Hello DATA Community,
The 2022-2023 Yearbook is officially FOR SALE! To order the yearbook, please go to: Https://www.yearbookordercenter.com/ and use the school code 25033.
For 15% off please use the code EARLYBIRD during time of checkout. This special discount is only available through December 31, 2022.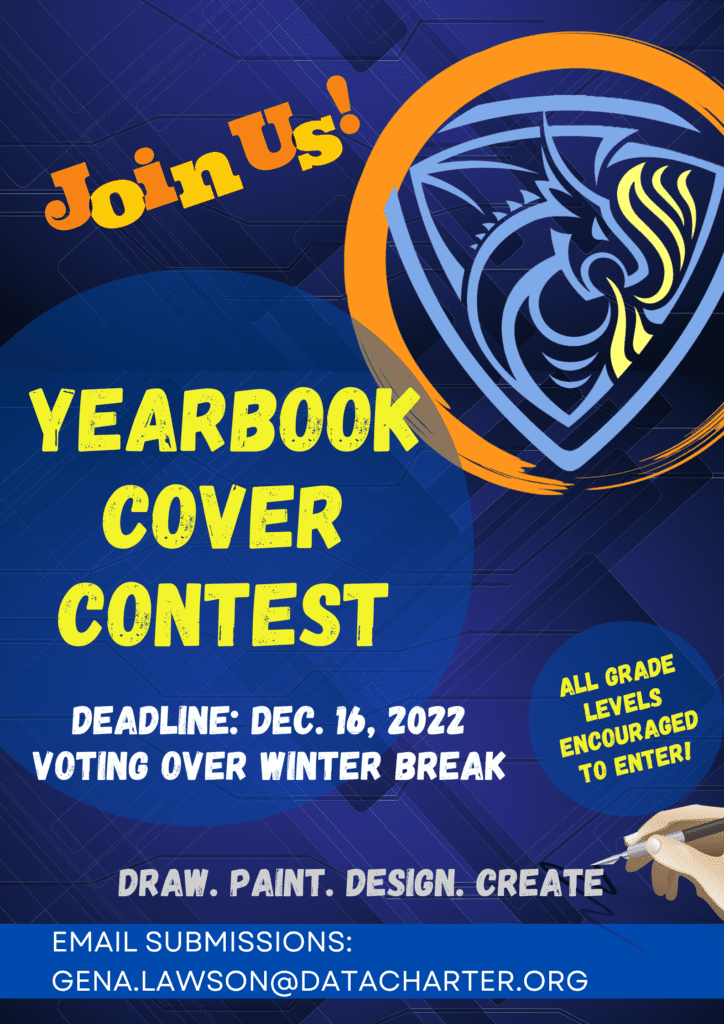 The Yearbook Committee is also holding their annual YEARBOOK COVER CONTEST!
Submissions are open to send to Ms. Gena Lawson at gena.lawson@datacharter.org
SUBMISSIONS DUE BY FRIDAY, DEC. 16, 2022
OTING IS OVER WINTER BREAK AND ENDS JANUARY 4, 2023
Other Important Yearbook Dates and Information:
Add your photos to the yearbook: Want to see your own photography, artwork, schoolwork etc. in the yearbook this year? Send photos to https://www.hjeshare.com/eShare/
Enter the school code: 25033
It will then ask your contact info in case we need to know what the photos are so we can place them correctly or ask for higher quality if possible.
The YB Committee has to approve all photos sent in. So simply sending the images in does not automatically approve them. Thank you!
• Senior Photo – November 4 – email for an extension
• Senior Baby Photo – December 2 (this is one that goes next to the senior photo in the main portraits section)
• Senior Quote – December 2 – make sure you also tell the YB Committee how you want your name in the yearbook (full name, etc.)
• Parent Ad – Spring 2023 – These will be set up through our yearbook software where parents/family members/close family friends can design and create their own personalized message/ad for their graduating senior. These are featured in the back of the book in the final pages. Parents will be able to select a full page, half page or quarter page ad. The ads can have text and photos, as much as is wanted with templates to help create the right look.